BLUETTI B80/P Expansion Battery | 806Wh
---
B80 Expansion Battery for BLUETTI AC60
B80P Expansion Battery for BLUETTI AC60P
A 806Wh Standalone Power Station
3 DC Outlets: a 100W USB-C, a 18W USB-A, and a 12V/10A Cigarette Lighter Port
Expand AC180/EB3A/EB55/EB70 in Power Bank Mode
Four Ways to Recharge: AC60 charging, solar, car (cigarette lighter) and adapter.
---
Earn BLUETTI BUCKS (Value about £ )for this order!
---
6-year Hassle Free
Warranty
Made to Withstand and Last
The BLUETTI B80 is built with reliable
LiFePO₄ battery cells
for a lifespan of over 10 years. It's IP65-rated to resist water and dust, so you can keep going in all weather. Backed by an industry-leading 6-year warranty, you can always enjoy peace of mind.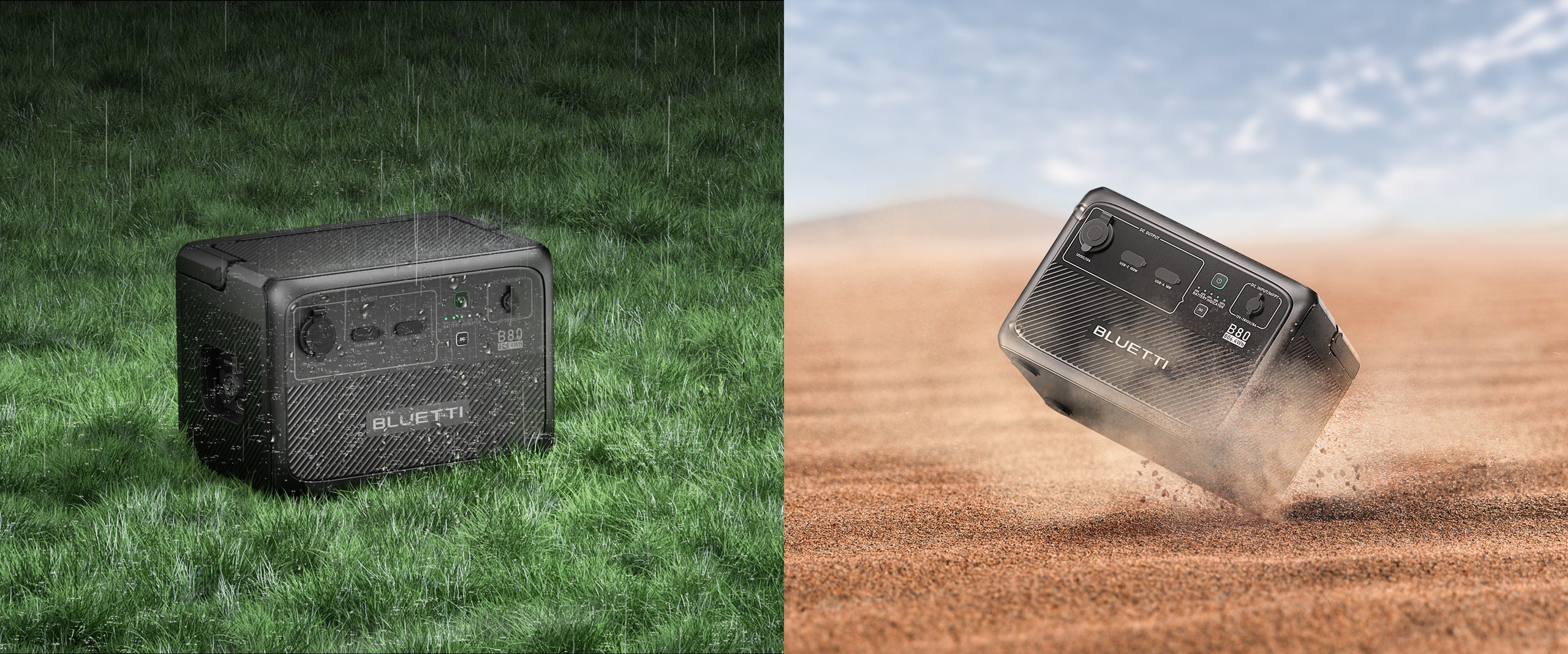 Capacity Booster for BLUETTI Power Stations
Besides being the perfect companion for the
BLUETTI AC60
, the B80 also expands the capacity of many other BLUETTI portable power stations such as the EB3A, EB55, EB70, and AC180 in Power Bank mode*.
*Additional accessories required.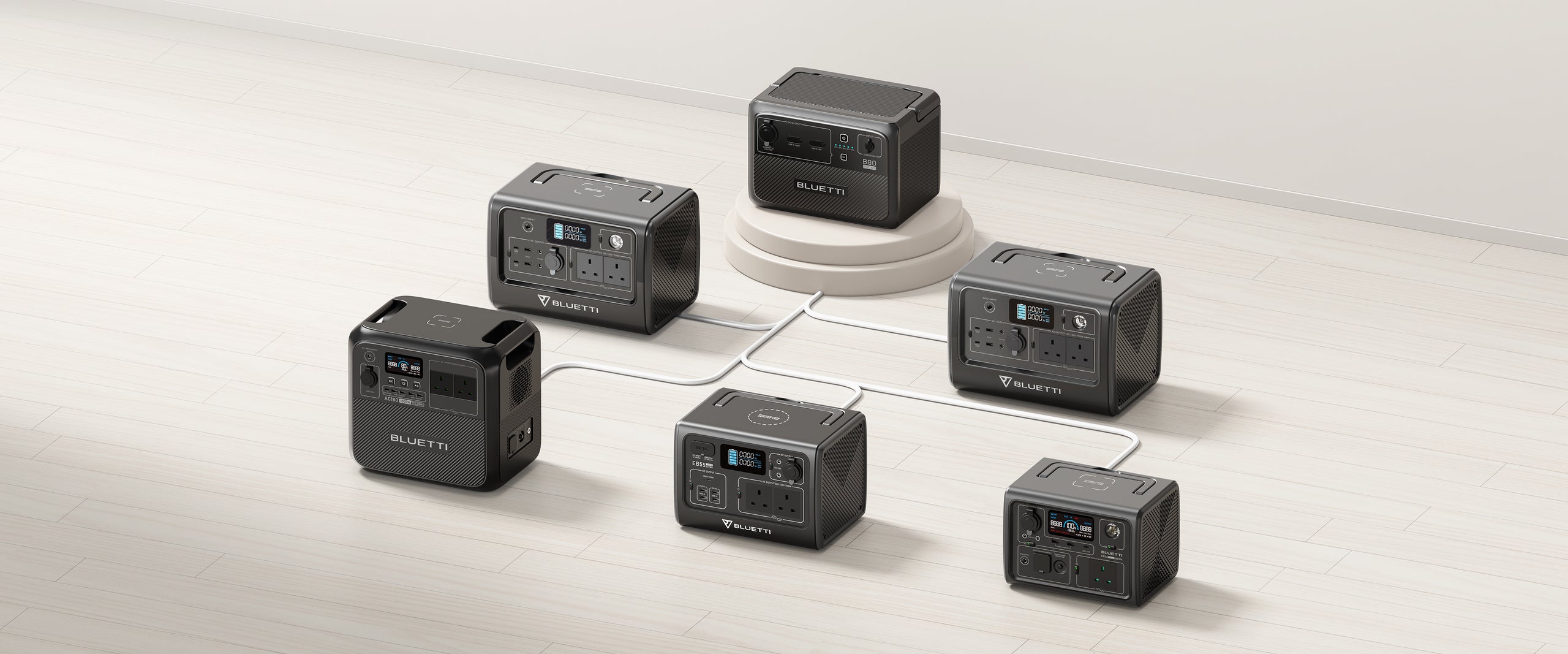 Flexible Capacity for Different Needs
Level up your mobile power experience by adding B80 packs to your currently supported BLUETTI power stations. For example, you can expand your AC60 from 403Wh to 2,015Wh with 2*B80 units. Or you can connect your 
EB3A
to 2 B80 packs to get an extra 1612Wh of power for your extended trips, camping, and prolonged power outages.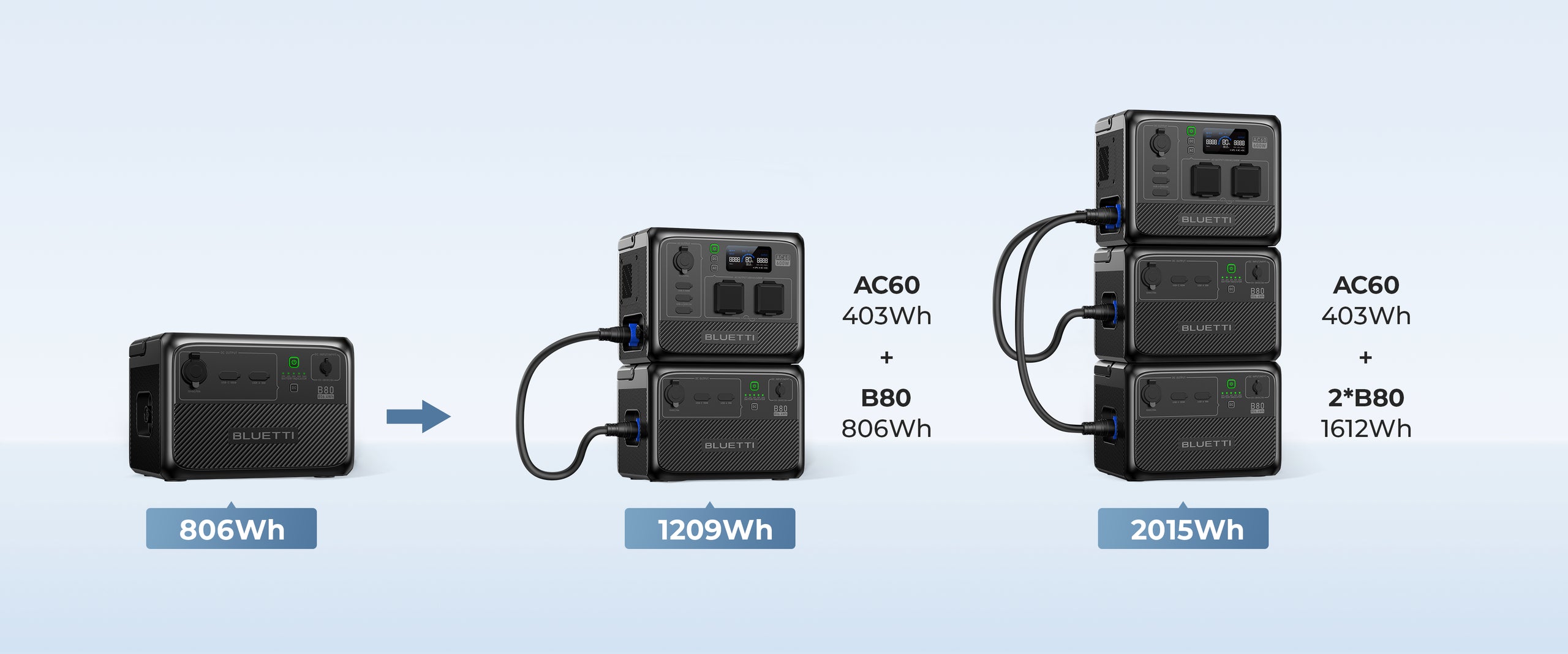 A Standalone Power Source
More than just an expansion battery, the B80 can deliver up to 120W DC power alone with 3 DC ports - USB-A, USB-C, and a car cigarette lighter port. With 806Wh of energy, it can charge a smartphone 43 times, a laptop 10 times, and power up a light for over 60 hours.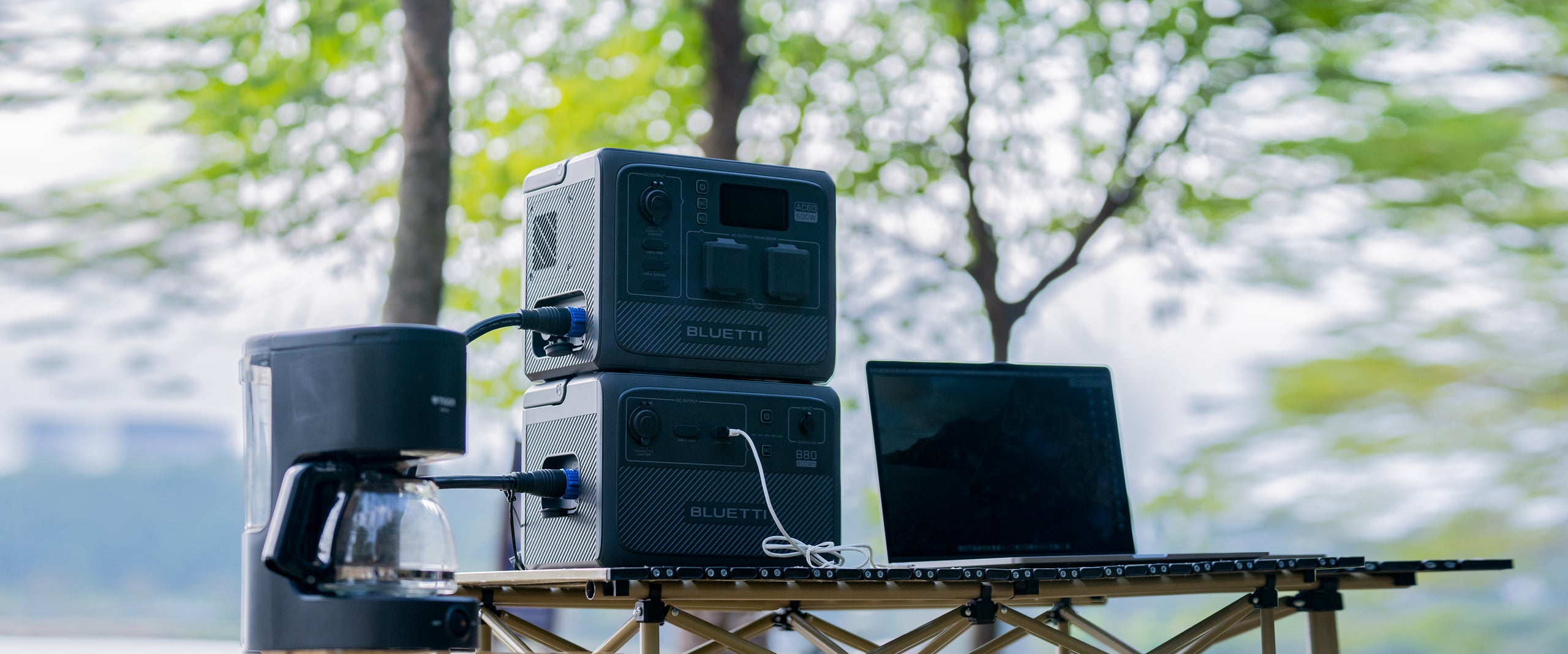 Various Charging Methods Available
Unlike other competitors' battery packs that only offer limited charging options, the B80 provides unparalleled charging flexibility to ensure you always have a full battery. It can be charged in connection with AC60, or on its own via adapter, solar panel, and car.

*Optional accessories are required.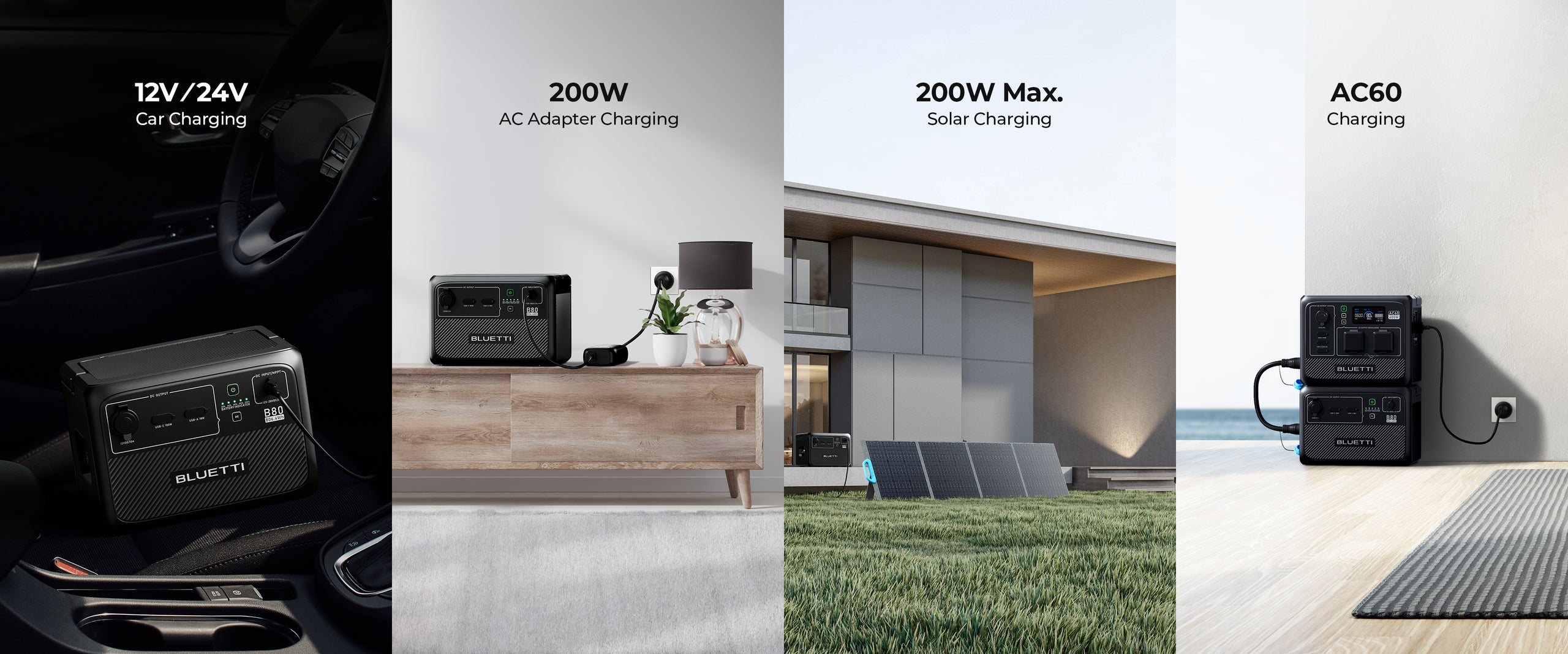 Specifications
BATTERY INFO
---
3,000+ Cycles to 80% Original Capacity
---
Recharge to 80% Every 3-6 Months
---
MPPT Controller, BMS, etc.
---
OUTPUT
---
1 ×12V/10A (Car outlet, regulated.)
---
INPUT
---
200W Max., VOC 12-28VDC, 8A
---
12/24V from Cigarette Lighter Port
---
RECHARGE TIMES
---
Solar Panel
(200W Max.):
≈4.5-5 Hours
(With prime sunshine, ideal orientation and low temperature)
---
12V/24V Car Outlet
(100W/200W):
---
GENERAL
---
290mm ×207mm ×204mm / 11.42in ×8.15in ×8.03in
---
PSE, RCM, UKCA, FCC, CE, CA65
---
FAQS
Q1: Which BLUETTI power stations can work with B80?

A: The B80 is the companion expansion battery for AC60 to increase its capacity.
Meanwhile, in Power Bank mode, the B80 can be used to charge the EB3A/EB55/EB70/AC180 with extra accessories.
EB3A/EB70/AC180/: Aviation to DC7909 cable
EB55: Aviation to XT60 cable

Q2: Is the B80 expansion battery waterproof?

A: No, it isn't waterproof. But it's IP65 rated to resist water splashes and dust.

Q3: What does the IP65 rating mean?

A: The IP or Ingress Protection Rating measures how resistant a device is to solids and water. The first digit of the rating indicates the level of protection of the enclosed device against the intrusion of foreign objects, such as dust, tools, or fingers. The second digit represents the protection level against moisture intrusion. And the IP65 rating means that the B80 is protected from total dust ingress and low-pressure water jets from any direction.

Q4: How fast can I charge the B80 alone?

A: It takes up to 200W input, fully charging in 4.5-5 hours.

Q6: What kind of solar panels should I choose for B80?

A: Please refer to the following requirements:
1. Total open circuit voltage: 12-28V
2. Max. input power: 200W
3. Equipped with MC4 connectors.
Highly Recommended:
1× BLUETTI PV120: ≈ 7.2-7.7 hrs*.
1× BLUETTI PV200: ≈ 4.5-5 hrs*.
* For reference ONLY.

Q7: Can I use B80 expansion battery alone?

A: Yes. It comes with a 100W USB-C, a USB-A, and a 12V car port to charge your phone, laptop, car refrigerator and more.

Q9: Does B80 support App control?

A: Connect it to the AC60, pair them with BLUETTI App, and you can control the system at any time from anywhere.