According to reports, 1 in 5 Brits has been on a camping trip since the pandemic began. Stress, anxiety, and lockdowns literally sent a lot of us running (or rather driving) for the woods.
Camping is one of the best ways to disconnect, get out in nature, and slow down. But this doesn't mean that you have to go without any amenities during a camping trip.
Being able to easily charge your phone, tablet, torch, headlamp, or even a camping fridge could mean the difference between a comfy, relaxing camping trip, and a stressful one.
Camping solar panels are one of the easiest ways you can power devices and small appliances while camping. Not only are they silent and clean, but they're also very easy to transport and set up.
However, before you rush out and buy solar panels for camping, there are a few things you need to take into consideration. Keep reading to find out how to go about choosing the best solar panels for your camping needs.
What You Can Power With Camping Solar Panels
One of the first things you need to know when shopping around for solar panels for camping is what you can power with them. Most camping solar panels are designed to power small devices, electronics, camping lamps, and torches.
There are some solar camping setups that can power larger appliances and electronics, such as camping fridges and televisions. High-capacity solar systems for camping can even power things like an electric grill, but this won't leave a lot of energy over for other things.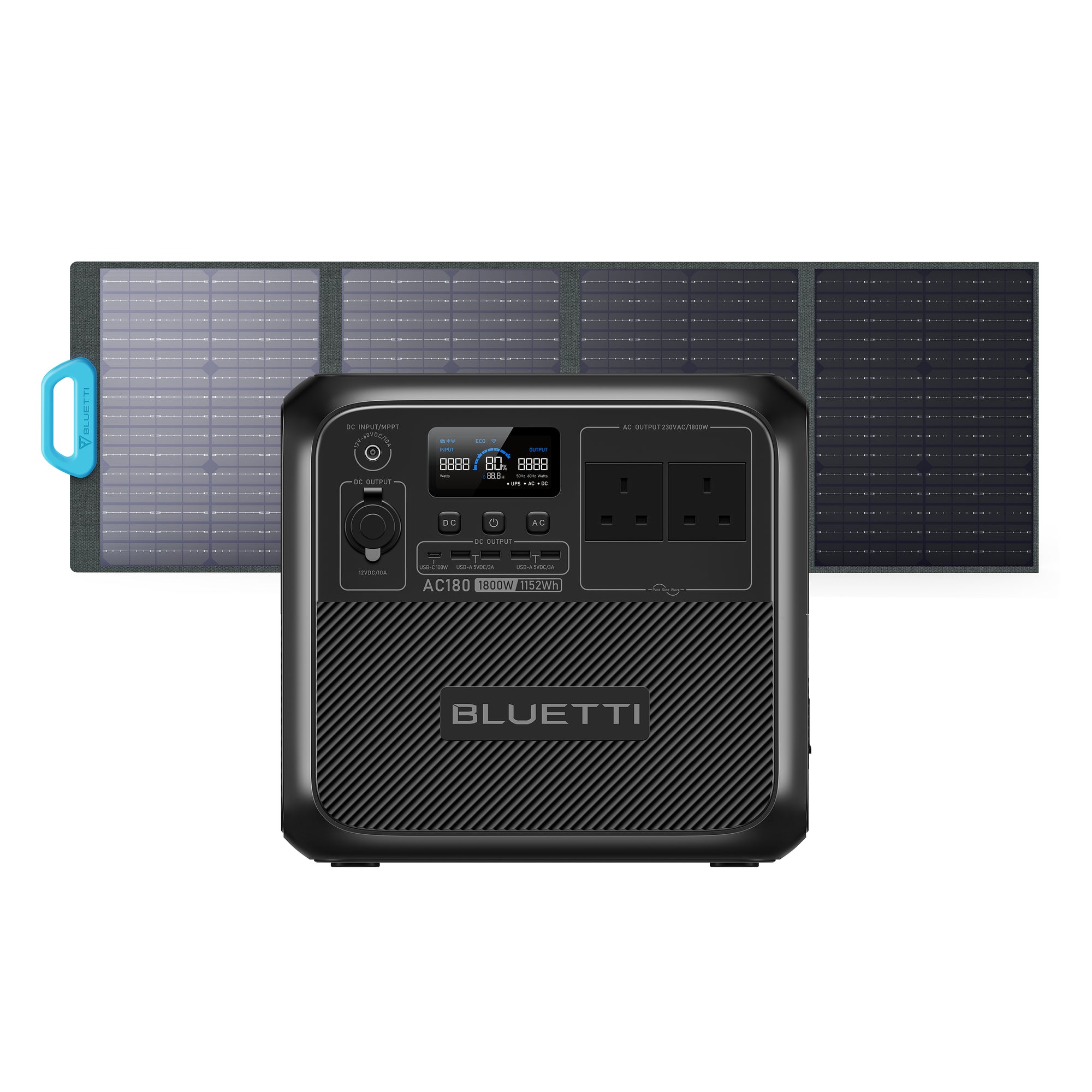 Enjoy electricity when camping
Explore camping life with BLUETTI portable generator kit(solar battery+solar panel)
What You Can't Power With Camping Solar Panels
If your system is large enough, you can power just about anything with solar panels. However, there are some appliances that have particularly heavy draws and don't typically pair well with camping solar panels.
Heat-generating appliances are usually very energy hungry and will deplete even a large system fairly quickly. These include things like blow dryers and heat styling tools, space heaters, electric kettles, hot plates, etc.
Size Matters
Another thing to know before you head out and buy a set of camping solar panels is that size really does matter in this case. A small, foldable set of camping solar panels will only be able to power a few devices.
If you have a lot of devices and lamps you need to charge, a small set of camping solar panels might not produce enough power during the day to get everything charged up.
You also need to consider when you'll be charging your devices, lamps, etc. Solar panels reach their peak energy production during the middle of the day when the sun is strongest. This is the best time to charge your devices from them or use them to power appliances.
In the early morning and later afternoon, energy production will be quite low. If you've been hiking all day and are coming back to camp needing to charge up phones and GPS devices—you could deplete your system quite quickly.
Aim to Go Slightly Bigger Than Your Needs
It's always a good idea to get a set of camping solar panels that will produce a bit more power than you need. To make sure you don't run out of charge, we'd recommend aiming for a system that produces 20% more energy than you need to draw.
This is especially important here in the UK where we don't have the most reliable supply of sunshine. The UK as a whole receives an average of 1490 hours of sun per year.
On days when there's cloud cover or rain, most solar panels will produce far less energy than on a sunny day. If you're unlucky and get a few dull days in a row while camping, an undersized system might leave you scrambling to get your devices charged.
Estimating Your Energy Needs
But how do you know how much energy you need?
The best way to determine this is by adding up the wattage of all the things you need to power off your camping solar panels.
So, for instance, if you need to charge 3 mobiles that each draw 4 watts, and 3 camping lamps that draw 10 watts, your total draw if you have to charge them all during the day will be 42 watts.
Add on 20% to that and you're looking at a 50-watt set of camping solar panels.
However, if you need to power these devices, plus a camping fridge and an electric fan, you'll probably need at least 300 watts worth of panels.
General Guidelines Around Energy Needs and Panel Sizes
As a general rule of thumb, a 20-30 watt set of camping solar panels will be adequate if you just need to charge a few gadgets. If you're a large group, and everyone has a few devices that need charging, you might need to scale up to over 40 watts.
On the other hand, if you want to power something like a camping fridge, you'll probably need a 120-watt solar panel or a 160-watt panel.
Choose the Best Solar Panels for Camping
If you're looking for a solar power solution for camping, we'd recommend you go with a setup that's specifically designed for camping.
The last thing you want is to have to lug around a large, heavy panel that's awkward to set up and angle to the sun. You also don't want to be tinkering around with a clunky panel, battery, and inverter setup that requires technical knowledge to connect up. If you have to spend hours tinkering around with your solar setup, you'll have less time to enjoy all the health benefits of camping.
Nowadays, there are a variety of solar solutions on the market that are specifically designed for camping. For instance, our range of camping solar panels are all foldable and highly portable.
Foldable solar panels are made from monocrystalline solar cells. These types of panels are very light and compact. Thanks to their unique design, they can produce the same amount of power as regular polycrystalline cell solar panels with a smaller surface area.
And these aren't the only benefits of solar panels that are specially designed for camping. Our solar panels come with fold-out supports that allow you to easily place them at the perfect angle to catch the sun's rays.
Our foldable solar panels neatly fold into a compact, highly portable briefcase-size carry bag. Once folded, our camping solar panels will take up next-to-no space in your car. If you have to hike to your campsite, you can easily carry them, or attach them to your rucksack.
What's more, our camping solar panels are also all compatible with most solar generators and MC4 connectors. Instead of having to fiddle around with connecting up a battery and inverter, all you need to do is plug your panel into a solar generator, and you'll have a complete solar power camping setup.
When you're breaking down camp, dissembling the system is just as easy. Simply unplug the panels, fold them up, and stash them in your car.
Don't Forget That You May Also Need a Battery
When shopping around for camping solar panels, keep in mind that you will probably also need a battery solution.
You can get some very small camping solar panels that can plug directly into electronic devices. These solar panels are specifically designed for device charging and have inbuilt power bank and inverter technology.
Unless you just want to charge one or two mobile phones, these types of camping solar panels won't get you very far. If you want to generate and store more power, you will need to invest in a battery and inverter solution.
Like we said above, messing around with a traditional battery, panel, and inverter set-up is not ideal for camping. Instead, we'd recommend you look into portable power stations.
Portable power stations offer a compact, plug-and-play solar power storage solution. If you combine a set of camping solar panels with a portable power station, you'll have an efficient solar generator that you can use anywhere.
Not only are portable power stations easy to use, but they're also very versatile. Besides charging them from camping solar panels, you can also charge them from your car, from an ordinary household plug, from a generator, or from a lead battery.
Portable power stations aren't just a game changer for camping. You can also use them at home when there's a blackout or any other time you need an emergency, portable source of power.
Are You Looking for Compact, Efficient, Foldable Camping Solar Panels?
If you want to be able to charge your devices and power appliance while out camping, solar panels are the ideal solution. Nowadays, you don't have to lug a clunky panel and lead battery around. Instead, you can kit yourself out with foldable camping solar panels, that are specifically designed to be lightweight, compact, and easy to set up.
Are you keen to pick up a solar panel for your next camping trip?
Browse our range of foldable camping solar panels today.