BLUETTI AC180 + B80/B230/B300 Power Kit
£1,298.00
£1,798.00
On sale
Tax included.
---
1,800W AC Output / 2,700W Power Lifting Mode;
Capacity: 1,152Wh (AC180) / 1,440Wh (AC180P);
11 Output Ports for Multiple Devices;
Flexible 4 Recharging Ways (AC/Solar/Car/Generator);
Smart Control & Monitor with BLUETTI App;
0-80% Recharging in 45Mins with 1,440W AC Input;
Eco-friendly/Clean/Quiet/Cost-effective;
How to choose Solar Panels:
---
Fully Charged in
Earn BLUETTI BUCKS (Value about £ )for this order!
---
30 Days Price Protection Guarantee
BLUETTI guarantees that we will refund you the difference if you find a lower price from us within 30 days of your purchase.
Notes:(To get the price differences for your order, the following requirements must be met)
1. Valid purchase history within 30 days.
2. Take a screenshot of the lower price and email us, we'll refund the differences as soon as we confirmed it.
---
5-year Hassle Free Warranty
Lifetime Customer Support
AC180: Power You Can Always Rely On
Designed for both indoor and outdoor scenarios, AC180 is highly capable as it has a capacity of 1,152Wh and continuous output of 1,800W. Thanks to its super-fast charging speed and portable design, it's a grab-and-go power station for numerous applications. The BLUETTI App is also available to make remote control and real-time monitoring incredibly convenient with just a few swipes on your phone.
Power Pretty Much Anything.
BLUETTI equips AC180 with 1,800W constant output power and 1,152Wh capacity to cover most power demands. It also has a Power Lifting Mode that delivers 2,700W output to run high-powered devices effortlessly. A wide range of outputs, including AC outlet, USB-A, USB-C, 12V DC outlet, and wireless charging pad, are built for versatile charging for living off-grid or on the go.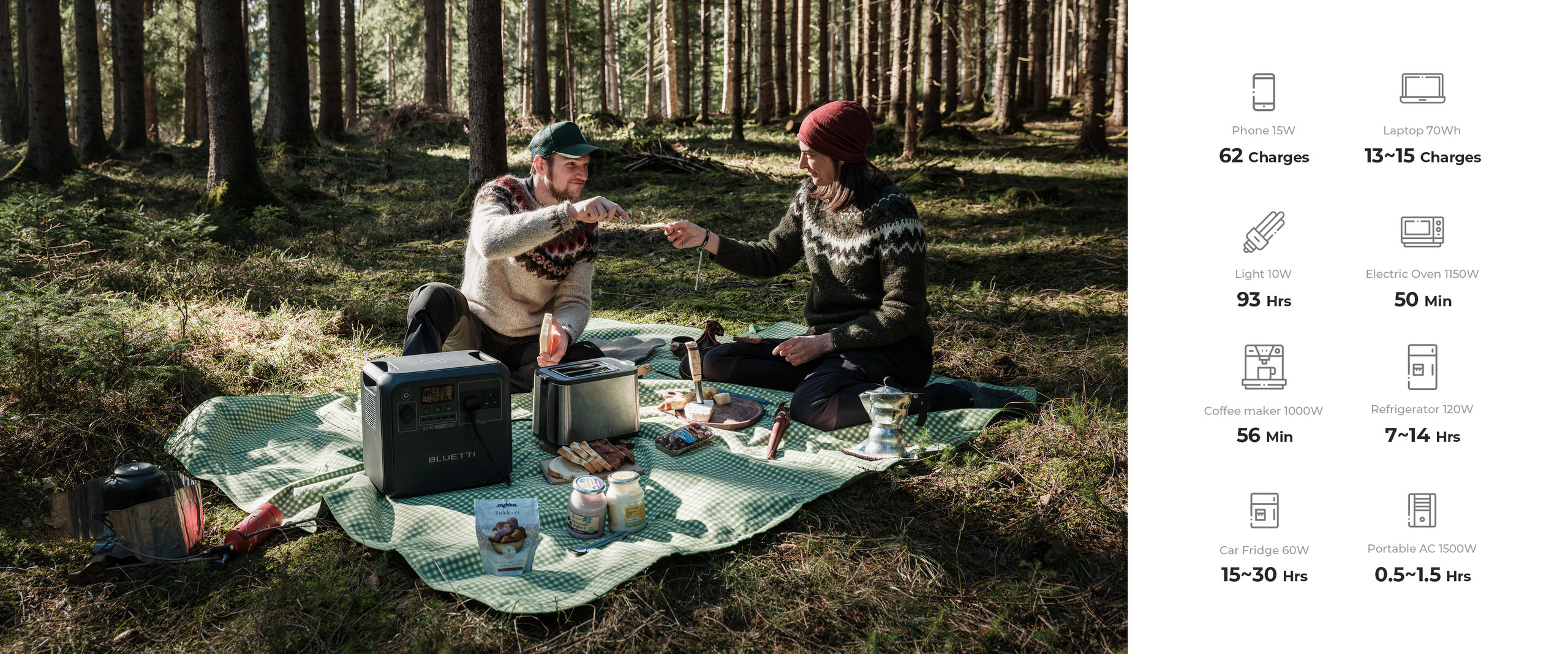 Compact & Portable
In view of portability, AC180 measures 340mmx247mmx317mm(LxWxH) and weighs only 37lbs/17kg, adding a convenient handheld design that makes it easy to carry around on the way to your next adventure.
One Hour to Charge, All Day to Power.
The highly efficient charging rate ensures the battery can be fully loaded shortly. With only one single charge, AC180 is capable of delivering extended battery life to feed up your essentials at home or in the wild. Driven by Turbo Charging with up to 1,440W input, 0-80% recharging only takes 45mins! You can now relax knowing that the ready-to-use power is always within reach.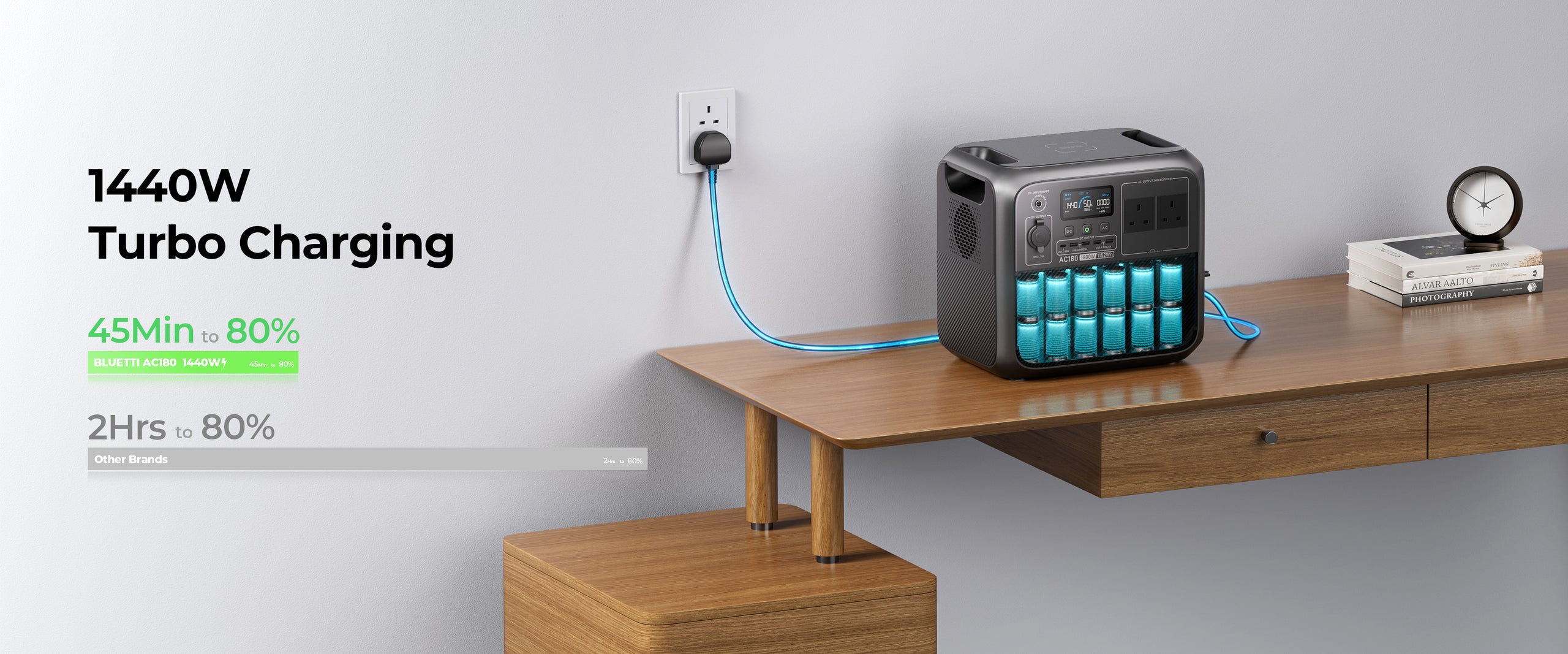 Go Green, Live Sustainable.
Power your fun with unlimited solar energy. AC180 provides a perfect solution to save energy consumption while reducing our budgets. The max 500W solar input allows AC180 to be fully charged within just 3 hours on a sunny day, making it highly efficient to access renewable energy.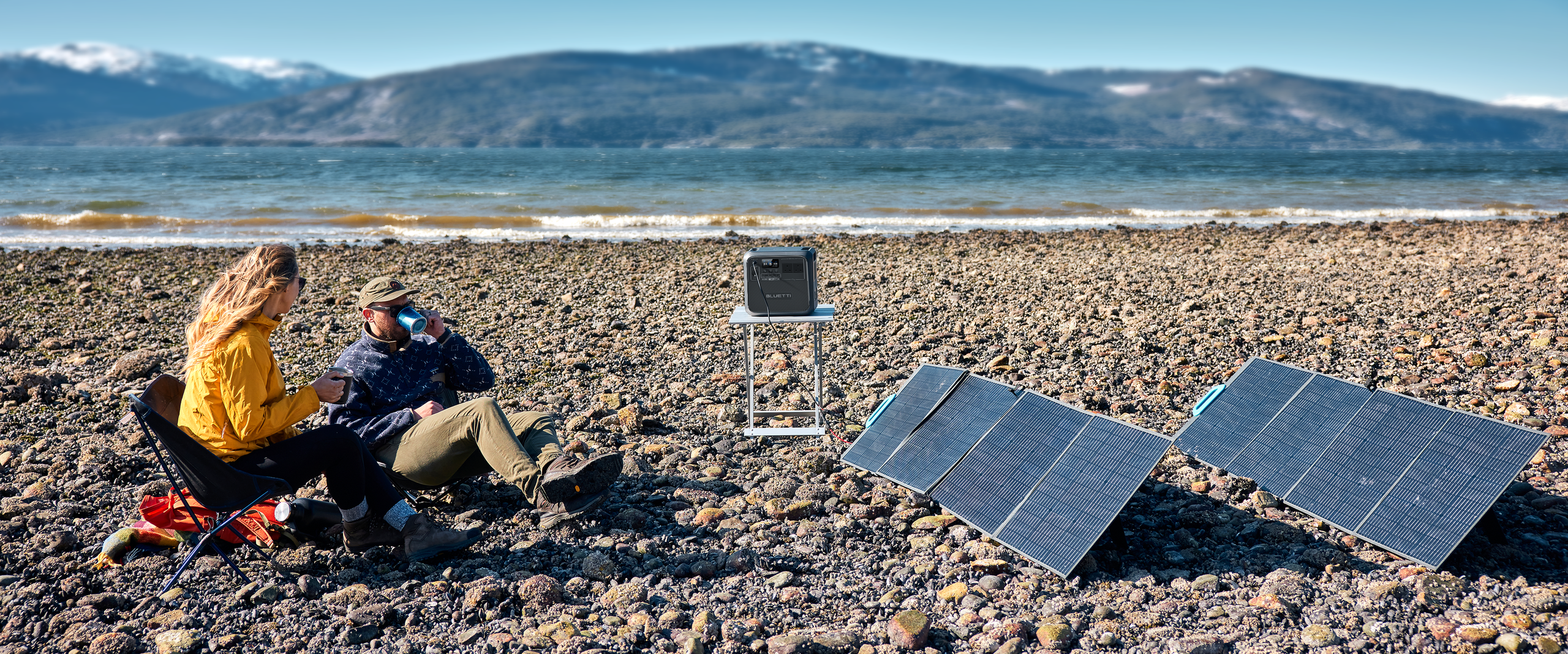 Safe, Reliable, Durable.
Safety always comes first priority. AC180 is equipped with the safest LiFePO₄ batteries to ensure durability and over 3,500 life cycles. A 5-year warranty and first-rate service are also included for more peace of mind.
Specifications
BATTERY INFO
---
3,500+ Cycles to 80% Original Capacity
---
Recharge to 80% Every 3-6 Months
---
MPPT Controller, BMS, etc.
---
OUTPUT
---
2 x 230V/7.8A Outlets,
1,800W In Total
---
1 × 12V/10A (Car outlet, regulated.)
---
INPUT
---
AC Power Input (standard mode):
---
500W Max., VOC 12-60VDC, 10A
---
12/24V from Cigarette Lighter Port
---
RECHARGE TIMES
---
AC Charging Cable (1,440W Turbo Charging):
---
≈2.8-3.3 Hours (With prime sunshine, ideal orientation and low temperature)
---
12V/24V Car Outlet (100W/200W):
≈12-12.5 Hours / 6.3-6.8 Hours
---
GENERAL
---
340 ×247 ×317mm / 13.39 ×9.72 ×12.48in
---
UKCA, PSE, TELEC, RCM, CE, CA65, UL Standard
---
IN THE BOX
---
1 × BLUETTI AC180 Portable Power Station
1 × AC Charging Cable
1 × Car Charging Cable
1 × Solar Charging Cable
1 × User Manual
1 × QC Card
1 × 5-year Warranty Card
---
BLUETTI AC180 + B80/B230/B300 Power Kit MANUAL
Download Now
Cart
Earn BLUETTI BUCKS (Value about £ )for this order!
We use cookies to ensure you get the best experience. By using our website you agree to our Privacy Policy.